Joined

20 Jul 2017
Local time

4:04 AM
Messages

1,947
Location
A Chinese friend taught me some cooking techniques. One was to steam fish then pour over very hot oil flavoured with garlic, ginger, spring onions, etc. So today I use the technique on herring.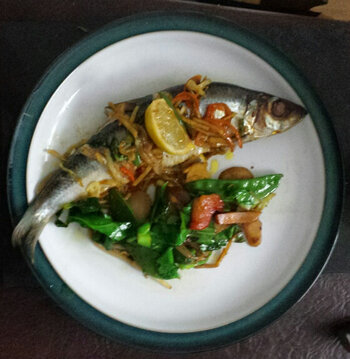 2 herring (gutted and slits put each side)
1/2 line cut into 4 wedges
1/2 lime juiced
2 tablespoons soy sauce
half green chilli
Half red chilli
6 garlic cloves
knob of fresh ginger (about 2cm)
cup oil (Should be veg oil but I only had rapeseed)
1 small onion thinly sliced (Should be spring onions but I didn't have any)
Pop the lime wedges in the herring cavity
Steam for 10 minutes
Mix the soy sauce and lime juice and set aside.
Once the fish is cooked heat up the oil until very hot. Add the garlic, ginger, chillies and onion and sizzle for 30 seconds (I actually added the onion for a minute before In added the other ingredients as I was not using spring onions)
Tip in the soy/lime mixture. As it sizzles immediately pour over the fish.