Joined

11 Oct 2012
Local time

3:13 PM
Messages

14,485
Location
Website
The early hours of the morning should not be mixed with any recipe involving chocolate and certainly not one which sounds as good as this one does! And I have found a very dangerous website, one that contains lots and lots of desserts which can easily be made vegan. This is from there.
www.healthysweeteats.com/dark-chocolate-coated-pumpkin-spice-candy-cups/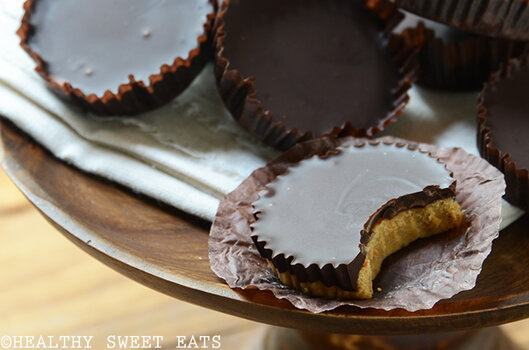 Ingredients
1/2 cup (112 g) coconut butter,
6 tablespoons (92 g) pumpkin puree
2 tablespoons honey/sweetener of choice
3/4 teaspoon ground cinnamon
1/4 teaspoon ground nutmeg
1/4 teaspoon ground allspice
1/4 teaspoon ground ginger
1/8 teaspoon ground cloves
1/8 teaspoon ground cardamom
1 pinch sea salt
115 g (about 2/3 cup chopped) good quality dark chocolate, coarsely chopped
Method
Line a regular-sized muffin tray with 9 paper liners.
Melt the coconut butter,
Stir together all ingredients except the chocolate, and divide this mixture between the 9 lined muffin wells, pressing it down to even it out.
Melt the chocolate in a microwave or double boiler, and spoon it on top of each piece of candy.
Gently tap the tray down to even out the chocolate.
Let it sit until the chocolate is cooled to room temperature, and then refrigerate the candy to chill.
Once fully chilled, remove the candy from the tray and store it layered in a covered container in the fridge for up to 1 week.
NOTES
To keep this vegan, make sure your dark chocolate is dairy free. Not all is, sadly.