Joined

10 Dec 2014
Local time

6:29 PM
Messages

67
Location
This lemon chess pie is one of my all time favorite single crust pies. Sweet and a little bit tart, it's great in summer, but I personally love it year round and often serve it during the holidays along with the quintessential pumpkin pies and whatever other sweet delights I feel like making on any given year.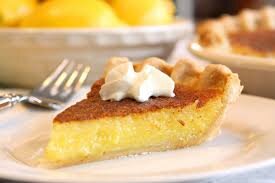 Ingredients
:
1 nine inch pie shell
1 tablespoon all purpose flour
2 cups white sugar
1 tablespoon cornmeal
1/2 cup butter, softened
1/4 cup fresh lemon juice
5 eggs, beaten
3 tablespoons lemon zest
1 cup of milk
Directions
:
1. Preheat oven to 350 degrees F (175 degrees C).
2. In a large mixing bowl, cream together sugar and butter or margarine until light and fluffy. Beat in eggs and milk. Add flour, cornmeal, lemon juice, and lemon rind. Mix until smooth. Pour mixture into pastry shell.
3. Bake in preheated oven for 35 to 40 minutes, until set in center.
Last edited by a moderator: