Joined

11 Oct 2012
Local time

5:28 AM
Messages

14,436
Location
Website
So it's that time of year again...



British pancake day... I say British because well our pancakes are not like the American ones....
Traditionally the size of a dinner plate, served with lemon juice and caster sugar.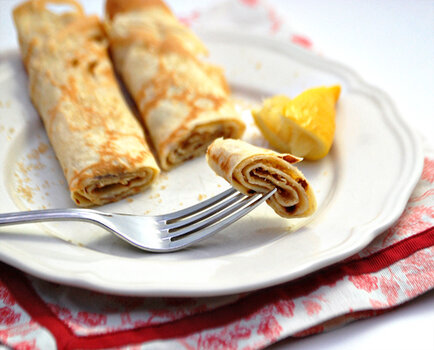 The SNSSO family recipe.
Makes about 6 dinner plate sized pancakes.
4-8 oz self raising flour
2 eggs
1/2 pt milk (any milk, works well with soya/oat/nut milks)
1 oz caster sugar
Pinch of salt
Method
Bung everything in a liquidiser and blend till smooth. You are aiming for something slightly ticket than double cream.
Cooked on my griddle (family heirloom)...
1 soup ladle of batter on a hot lightly greased (butter or last is traditionally used) griddle. Poured into the centre for that classic pancake look, then with a practice

flick of the wrist the excess is moved around the griddle to Cobbett the entire surface. Back on the heat, till the bubbles start to pop and it is browning.... Tossed to turn over

, hoping the ceiling is high enough and your catch spot on... Yet right, who are we kidding? Alternatively turn over with a spatular and brown off on the other side if it is still in one piece!

Serve immediately with plenty of halved lemons and caster sugar...

So what variations do we have put there amongst the British folk? Do you even 'celebrate' it?
The SNSSO variation, often includes a tbsp of help protein flour which adds a nice bit of flavour, spelt flour and maize four are also good alternatives.