Joined

7 Mar 2020
Local time

5:57 PM
Messages

838
Location
Ciao a tutti,
I was thinking what are members favourite knives and why? These are mine, please forgive quality of the picture hands shaking today. Ray bought them for me as a anniversary gift a couple years ago. I love them, they have a very good balance and a nice weight and feel. They are hand folded Damascus steel and hold a razor edge for a long time, they came with a steel. The little ones will slice even a very ripe tomato.
The chopper is a Chinese cleaver high carbon steel and razor sharp, Allessandro bought it me on a Chinese trip. I use this when cutting ox tails or such but it is good to peel vegetables with also. The edge of the blade is slightly curved so is great for preparing herbs.
I believe that sharp is safer than blunt one and they do cut beautifully. These are my pride and joy and I let nobody use them( Except Ray when I am not there) I really look after them and they have a case they live in all the time. Ray has never said how much he paid but I think they are expensive. I really like the wooden handles; I believe it is Rose wood.
Let us see yours.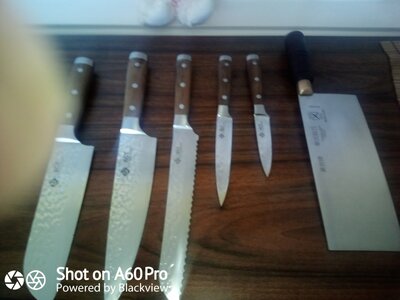 Sarana x