Obsessive cook
Staff member
Joined

19 Apr 2015
Local time

11:19 PM
Messages

35,246
Location
Please note this report is based on UK prices.
Its often said that saffron is the most expensive spice and I've many times heard that weight for weight its more expensive than gold. I'm sure this must put off a lot of people who have never cooked with it. But is it really so expensive?
I buy saffron on-line from Amazon or sometimes from my local Asian shop and don't consider it to be prohibitively expensive. This is the one I get from Amazon:
As you can see this is £7.99 for 4 grams. So it is £2 per gram. The current price of gold as I write is £31.65 per gram. So one could hardly argue that saffron is more expensive than gold!
This is tried and tested saffron and its certainly not fake 'safflower'. It may not be the best and ultimate saffron in the world but its pretty special and I'd recommend it to anyone. It can be bought in a smaller 1g quantity but works out a little more expensive.
Next up is a brand sold in supermarkets: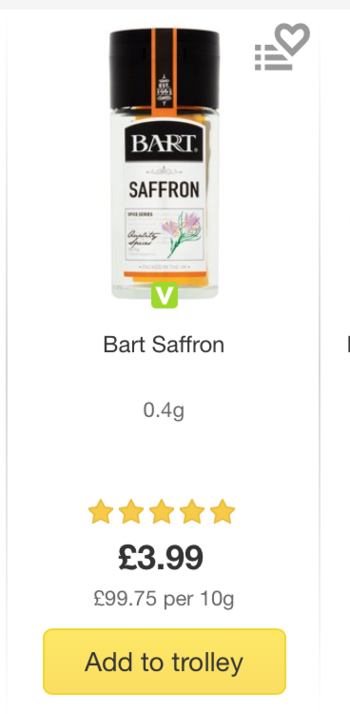 As you can see this is
way
more expensive. You only get .4 grams in a jar, so less than half a gram. It is approximately £10 per gram. This is five times the cost of the saffron from Amazon but still nowhere near the price of gold.
Next up a more expensive offering via Amazon:
This one also works out at £10 per gram - the same as the Bart brand but it is organic and
might
be better quality.
There may more expensive types available but I stopped looking at this point. As far as I can tell saffron isn't generally speaking more expensive than gold. I'm sure there are rarified and expensive premium types of saffron just as there are fine and expensive wines. But I reckon that if you are a home cook you won't be disappointed with any of the above brands.
If you take into account just how little saffron you need to flavour a dish then I don't consider it expensive at all. I have just made chicken kebabs marinated in saffron (plus a few other ingredients) and used just 1/4 tsp (.2 grams ) of saffron strands for two chicken breasts. This works out at 10p for the saffron in this dish.
It would be interesting to know how these prices compare to saffron available in your country.