Joined

11 Oct 2012
Local time

3:41 PM
Messages

14,485
Location
Website
As a compliment to the
Recipe - Pomegranate Yoghurt Rice
I made yesterday, today I made these Khandvi which are spicy chickpea flour pancakes that are then sliced into thin strips once rolled up and served with a spicy tarka. I'll add the final photos later today when I serve the knandvi with the pomegranate yoghurt rice. Again this recipe is from Mango Soup by Jenni Malsingh.
Ingredients
(Khandvi)
75g gram flour (also known as besam or chickpea flour)
¼ tsp ground coriander
¼ tsp ground cumin
¼ tsp tumeric
¼ - ½ tsp chilli powder
½ tsp asafetida
1½ tsp fresh lime juice
150g soya yoghurt
250ml water
salt, to taste
Method
(Khandvi)
Prepare 3 metal pans (griddle or tawa) by oiling them lightly. An alternative to this, maybe to use greaseproof parchment. You'll need 3 sheets about 12" wide.
Sift all of the dry ingredients into a small saucepan.
Mix the yoghurt, water and lime juice together in bowl.
Slowly pour the wet ingredients into the saucepan whisking all of the time to ensure no lumps.
Over a medium heat, and stirring constantly, cook the mixture until it becomes very thick. Put the lid on the pan and cook for a further 1 minute, before removing the Iid and stirring well. The mixture should came away cleanly from the sides of the pan.
Keeping the saucepan contents still warm, put ⅓rd of the mixture into the center of your prepared griddle or tawa and quickly spread it out into the largest circle you can before it starts to pull away from the pan. Aim for evenness rather than size because you'll be rolling this 'pancake' up once it has cooIed. Quickly repeat with the 2nd ⅓rd and then with the final ⅓rd keeping the mixture warm until spread out.
Leave the pancakes to cool for 5-10 minutes before rolling up and then slicing into 1 inch wide strips.
Now prepare the tarka and garnish.
Ingredients
(tarka & garnish)
1-2 tbsp olive oil
1 tsp black mustard seeds
large pinch asafoetida
Handful fresh curry leaves
2 tbsp chopped coriander
20g gresh coconut, grated
Method
(tarka)
Heat the oil in a small saucepan until hot. Add the mustard seeds and asafoetida and wait until the mustard seeds start to pop before adding the fresh curry leaves, stirring once, counting to 10 and removing from the heat. Pour over the sliced Knandvi, then sprinkle over the fresh coriander and coconut and serve.
As you will see you the photos, I didn't manage to get the pancake particularly evenly or thinly distributed across my griddle or tawa and I resorted to an old frying pan for my third pancake. However, it has not affected the final product too much. I have yet to make the tarka garnish. That will happen this evening When I serve the knandvi with the pomegranate yoghurt rice.
What is probably the best presentation...
and hubby's plate of food!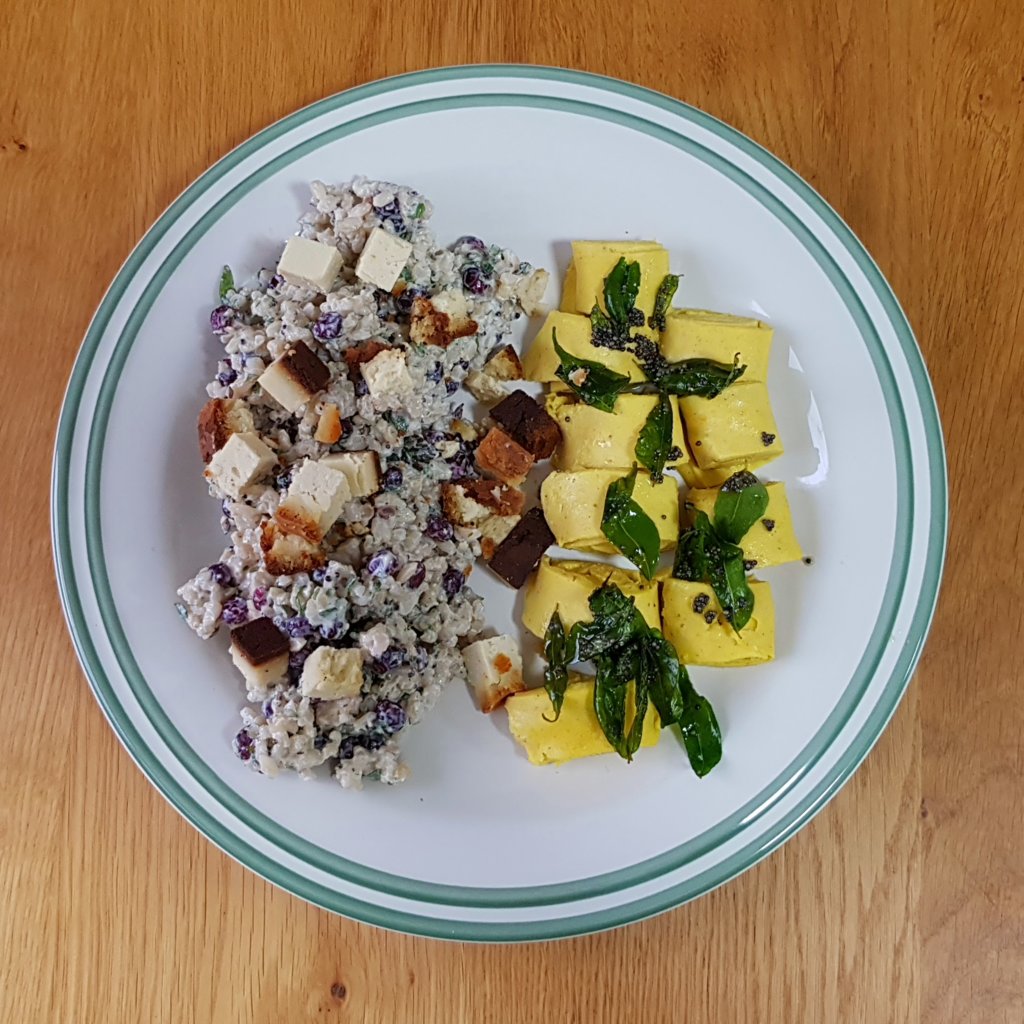 Pomegranate Yoghurt Rice and Knandvi served with baked (vegan) almond & cashew nut "Feta" cheese
Last edited: