Joined

19 Nov 2021
Local time

12:48 PM
Messages

2,814
Mrs. Next Door Neighbor has been hosting BYOB Cocktail Hour Parties on her rather large front patio.
I've been trying to take over Finger Foods. Here's an idea:
Basic Mini Cheese Balls​
Ingredients:
8 oz. Cream Cheese, room temperature
2 Tbsp. Butter, room temperature
2 tsp. Lemon Juice
dash Worcestershire Sauce
dash of Hot Sauce (I didn't have any, so I used a pinch of Cayenne Pepper)
1/8 tsp freshly ground Black Pepper
Method:
Chuck it all into a mixer, Stand or Handheld, and blend until smooth
That's the basic part, now comes the different flavors …
Divide the Cream Cheese mixture evenly between three bowls
Bacon & Ranch – stir in 2 oz. shredded Swiss Cheese and 1/3 Tbsp. dry Ranch Dressing Mix to the Cream Cheese mix; in a separate bowl, mix approx. 5 oz. finely crumbled Bacon (I bought pre-made Bacon Bites in the Salad Dressing Aisle) along with 1/3 Tbsp. dried Parsley, set aside
Garlic & Herb – stir in 2 oz. finely grated Parmesan Cheese to the Cream Cheese mix, 1 Garlic Clove finely minced, 3/4 tsp. dried Oregano, 1/3 tsp. dried Parsley, a good pinch each of dried Thyme, Dill Weed, Basil and fresh ground Black Pepper; in a separate bowl add about 1/3 C. dried Chopped Chives (fresh is fine too, whichever you have), set aside
Toasted Pecan & Dried Cranberry – stir in 2 oz. Sharp White Cheddar Cheese to the Cream Cheese mix; in a separate bowl mix 1/3 C. each finely Chopped Pecans & Dried Cranberries, set aside
Line a rimmed sheet pan with some foil; using a
teaspoon disher aka cookie scoop
, scoop out equal amounts of the Cream Cheese Mixture from each bowl in to their accompanying "dip", coating each cheese ball well. Shape/roll each in your hand to fairly uniform balls.
Place them all on the sheet pan, and cover tightly with another sheet of foil.
Stash in the `fridge for at least one hour, longer is best and serve with either a Pretzel Stick stuck in each Mini Cheese Ball or on a neutral flavored Cracker.
I went with the Pretzel Sticks for my final service presentation, it just makes it less stressful with a group of folks.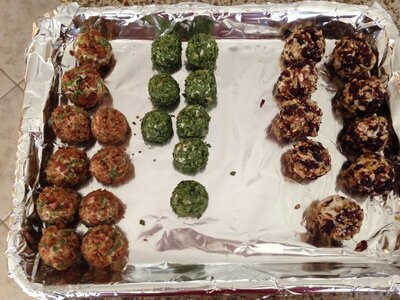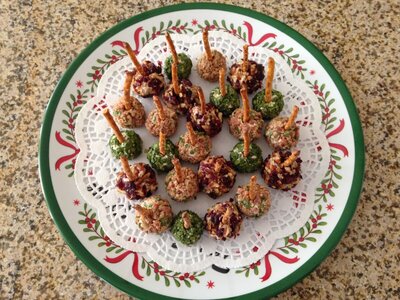 I needed to conduct a quality check...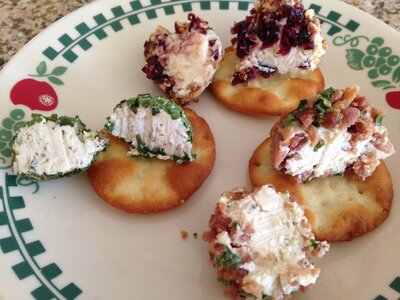 Very good indeed!