Obsessive cook
Staff member
Joined

19 Apr 2015
Local time

4:17 PM
Messages

38,557
Location
Charred Tofu and Brussels Sprouts with Ginger and Tangerine


Ingredients (
serves 2)
250g tofu
1 tbsp light soy sauce
1 tbsp dark soy sauce
1 inch ginger grated
Grated zest and juice 1 tangerine
Thinly pared tangerine peel
1 tsp toasted sesame oil
12 sprouts
Vegetable oil for frying
White sesame seeds to scatter

Method
Drain the tofu and wrap in kitchen towel and press to remove as much moisture as possible.
Cut the tofu into slices.
Mix together the soy sauce, ginger, tangerine zest and juice and sesame oil. Pour over the tofu and ensure each piece is coated. Leave to marinate for a minimum of 2 hours (or in my case 2 days!).
Cook the sprouts in boiling water for 8 minutes (if you prefer super-crunchy sprouts, cook for less).
Immediately plunge the sprouts in ice-cold water. This preserves the bright green colour.
Heat oil in a non-stick pan. Pat the tofu dry with kitchen towel and fry over a high heat on each side until slightly charred.* Remove from pan and keep warm.
Drain the sprouts and dry thoroughly. Cut each sprout in half and fry over a high heat until slightly charred. *
Add any remaining marinade to the pan and heat through.
Serve with plain rice, garnished with tangerine peel and sesame seeds.
Sprinkle additional light soy sauce over (and chilli sauce of your choice, if you wish).
*I also used a culinary blow torch to char the tofu and sprouts.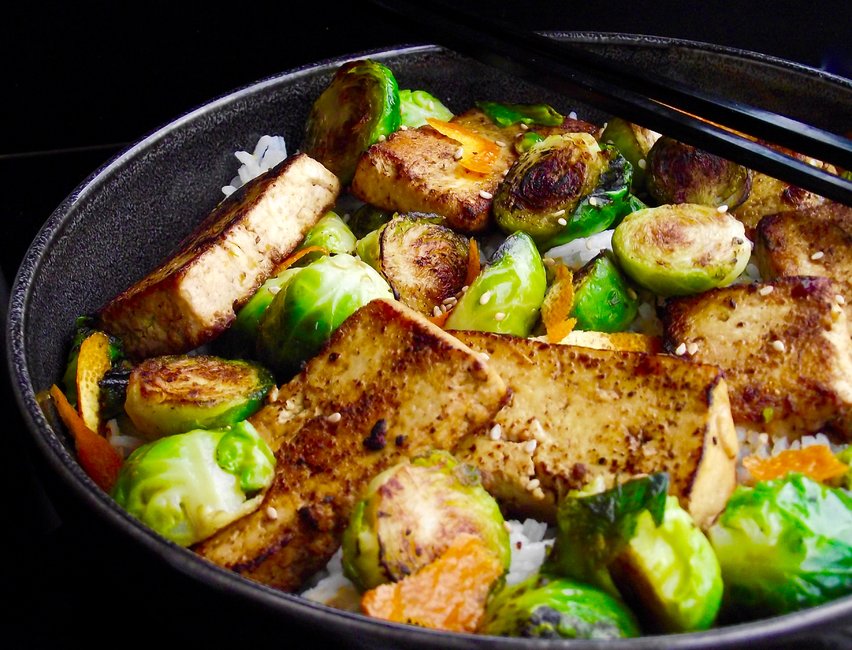 Last edited: