When my husband was on the road working regularly, I found an easy, healthy option to keep already cut-up salad veggies in the refrigerator plus a few cooked-ahead items that could easily be warmed up to compile a complete and well-balanced meal in just minutes. There was a healthy eatery across town that I had frequented occasionally where the kale and quinoa power bowl was one of my favorites. I made it at home a few times with the kale and quinoa being a constant, though the other ingredients in the bowl often varied.
This version's combination of warm chicken, seared Brussels sprouts, and quinoa plays nicely off the cool, crisp raw salad vegetables, and the salty, sweet, savory Asian-inspired sesame vinaigrette makes a nice foil for the overall salad components. The veggies and other ingredients can easily be adapted to suit personal tastes. I hope you enjoy it as much as I did!
Ingredients:
2 chopped kale leaves (ribs and stems removed)
1/4 cup chopped or shredded red cabbage
2 tbsp shredded carrot
1/2 ripe avocado, sliced
1 small ripe roma tomato cut into bite-size pieces
1/2 cup seared Brussels sprouts, warmed
3 tbsp cooked quinoa, warmed (I used red quinoa)
4 ounces of cooked sliced chicken breast, warmed
Several dried cranberries (optional)
Drizzled salad dressing or vinaigrette (I used this easy-to-make
Recipe - Asian sesame vinaigrette
)
To prepare the seared Brussels sprouts, quarter the desired amount of Brussels sprouts and cook them on high heat with a bit of butter and raw bacon until the bacon is cooked and the sprouts have a good amount of caramelization on them, then cover and set aside.
Build the salad, eat, and enjoy!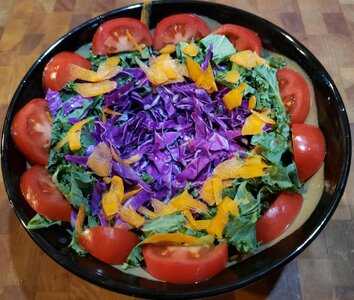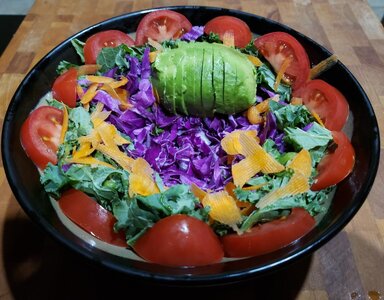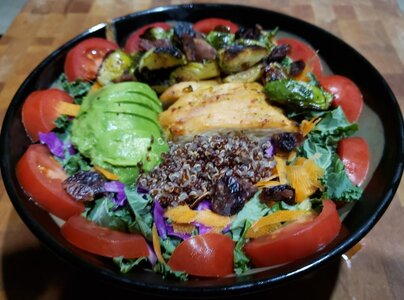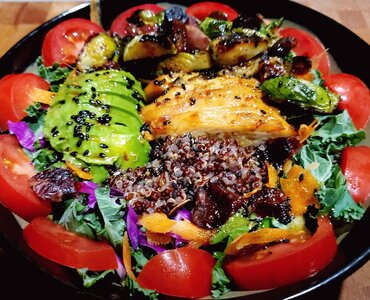 Last edited: