Fruit, Juniper Berry and Cheese Pie

Preparation 45-60 minutes
Serves 4-6
Pie crust
2,5 dl plain flour
0,5 dl rye flour
1,5 dl macadamia nut oil
3/4 teaspoon salt
1,5 teaspoon sugar
0,5 teaspoon baking powder
4-5 tablespoons water
Mix all ingredients in a bowl, line a medium-sized, round pie pan (⌀ 24-26 cm) with the dough. Use a spoon to spread and lift the sticky dough up on the sides of the pan.
Filling
4 ripe pears, peeled, deseeded and cut into pieces
2 avocados, peeled, deseeded and cut into slices
2 dl starchy vegetable cooking cream (or 1 tbsp potato starch mixed with the fruit and 2 dl cream)
20 juniper berries, crushed in mortar
2 eggs, slightly beaten
0,5 teaspoon salt
1/4 teaspoon ground allspice
1/4 teaspoon ground black pepper
150 g feta (type) cheese, crumbled
Garnish
50 g Parmesan slivers
A pinch of ground black pepper
pear, avocado and juniper berries
Prepare the pie. Place the pears and avocados on the bottom. Mix the eggs and seasonings with the cooking cream and pour it over the fruit. Sprinkle the crumbled feta cheese on top.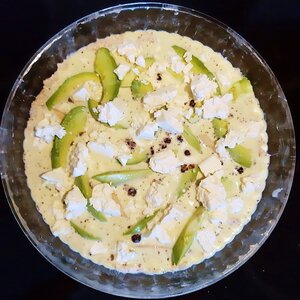 Bake in the oven (200°C) for 30-35 minutes until set and brown.
Garnish with Parmesan shavings, fruit and juniper berries, sprinkle some black pepper on top and serve with green bell pepper and iceberg lettuce.
(Salad dressing suggestion: juice of one orange, 2 tbsp evoo, 1 tbsp white balsamic vinegar, 3 tbsp smooth Dijon mustard, a pinch of salt, 1/4 teaspoon ground black pepper and a small bunch of finely chopped dill.)
Last edited: