A Reforming Perfectionist
Staff member
Joined

11 Oct 2012
Local time

11:44 AM
Messages

12,447
Location
Website
I'd love to participate but have a few points/ queries.
1, like many, I plan my meals a week in advance and buy the ingredients on a Saturday, Australian time, Friday most others time.
2. My cookbooks are not all vertical. Photo supplied to show what I mean. Do I continue numbers bottom to top or top to bottom?
Do I include my homemade cookbook? It has recipes in it, numbered by page, but some pages have more than one recipe. It's known as the BBB or The Big Blue Book in this house...
Finally, as always, recipes should be put onto the site as new threads and links to the posted here. It would also be really helpful if comments taking the recipe could be posted with the recipe and either copied here (or quoted here if you're crafty, use the quote feature, sometimes it will take a quote across threads using the multiquote feature automatically and if it doesn't, just use the normal quote or reply then cut and paste everything from one reply box to the reply box here. Normally we don't allow this but I think here it will be fine. )
My cookbook range holds 40 books including my BBB. Only 4 I have not cooked from. 3 if those are books that came with kitchen appliances. The other sounded great but in reality we're no so sure now we can see the recipes (Japanese vegan cooking).
Book 14 is one if 2 books depending on if BBB is included or not.
SO my BBB is setup like this.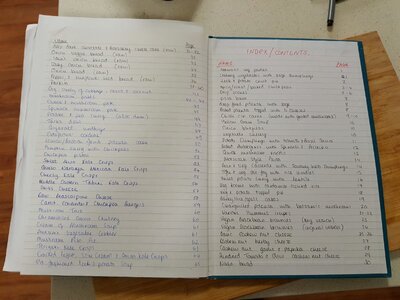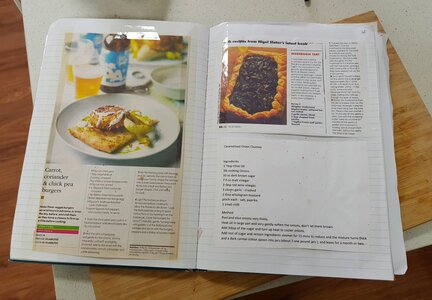 Book 14 is either of these two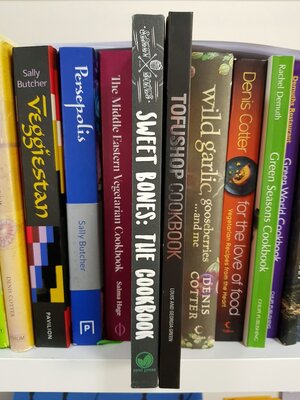 Sweet Bones: The Cookbook by Emily and Russell Brindley. The run tbe excellent vegan cafe in Braddon, Canberra by the same name. It was set up a number of years ago by crowdfunding. It is usually packed out indoor and outside all year round.
If my BBB isn't to be included, then it's the Tofushop Cookbook by Louis & Georgia Green. They are also a cafe plus shop, not vegan or even vegetarian but with a considerable amount that is. They make all of their own tofu on site. They've been going for a very long time, since 1982, and are to be found in Melbourne, Victoria.
I'm going to disappoint you all and tell you that I have cooked from both books previously (both books have been purchased in the last 12 months as well).
Last edited: