Joined

20 Jul 2017
Local time

4:34 AM
Messages

2,003
Location
Jackfruit makes a surprisingly good vegan alternative to pulled pork. I've made it once before in a bbq style, but I used this recipe for a tex-mex lunch party. It's based on a recipe from Feasting at Home.
When making pulled jackfruit, the trick is to make sure the jackfruit is as dry as possible and cook of the remaining liquid, and adding sugar to caramelise.
Ingredients
1 tin Jackfruit in water (don't use the one in syrup!)
About 2 tbsp oil
1 onion. Diced.
4 garlic cloves. Chopped
Fresh chilli to taste
1 tbsp soy sauce (I use gluten free)
Spice mix:
1/2 tsp salt
1 tsp chilli powder
1 tsp ground cumin
1 tsp Oregano
1 tsp (hot) smoked paprika
1 tsp brown sugar
1. If the jackfruit isn't already shredded, cut in slices. I cut up the hard bits a bit more too.
2. Drain and squeeze in muslin to get out as much liquid as possible.
3. Heat half the oil and saute the onion, garlic and chilli for about 5 minutes until golden. Keep stiring so it does not burn!
4. Add jackfruit and stir to coat in the onion mixture. Add soy sauce and stir again.
5. Add all the spices and sugar and stir to coat the jackfruit. Add more oil and cook on a low heat until catemalised and resembles pulled pork.
We had these in corn tortillas with salsa, guacamole and (vegan, oat-based) sour cream.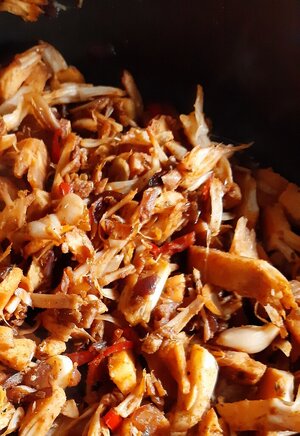 Last edited by a moderator: