A Reforming Perfectionist
Staff member
Joined

11 Oct 2012
Local time

3:57 AM
Messages

12,456
Location
Website
I have finally managed to make something involving a honey substitute for the
The CookingBites Recipe Challenge: Honey
. It has taken me a while to say the least!
I have to confess that you need your act together on this recipe. It is best if you don't let the almonds go cool after they have roasted, but at the same time you need the syrup mixture ready only minutes after the almonds have roasted, so make sure you are prepared. If you do that, it won't be a problem.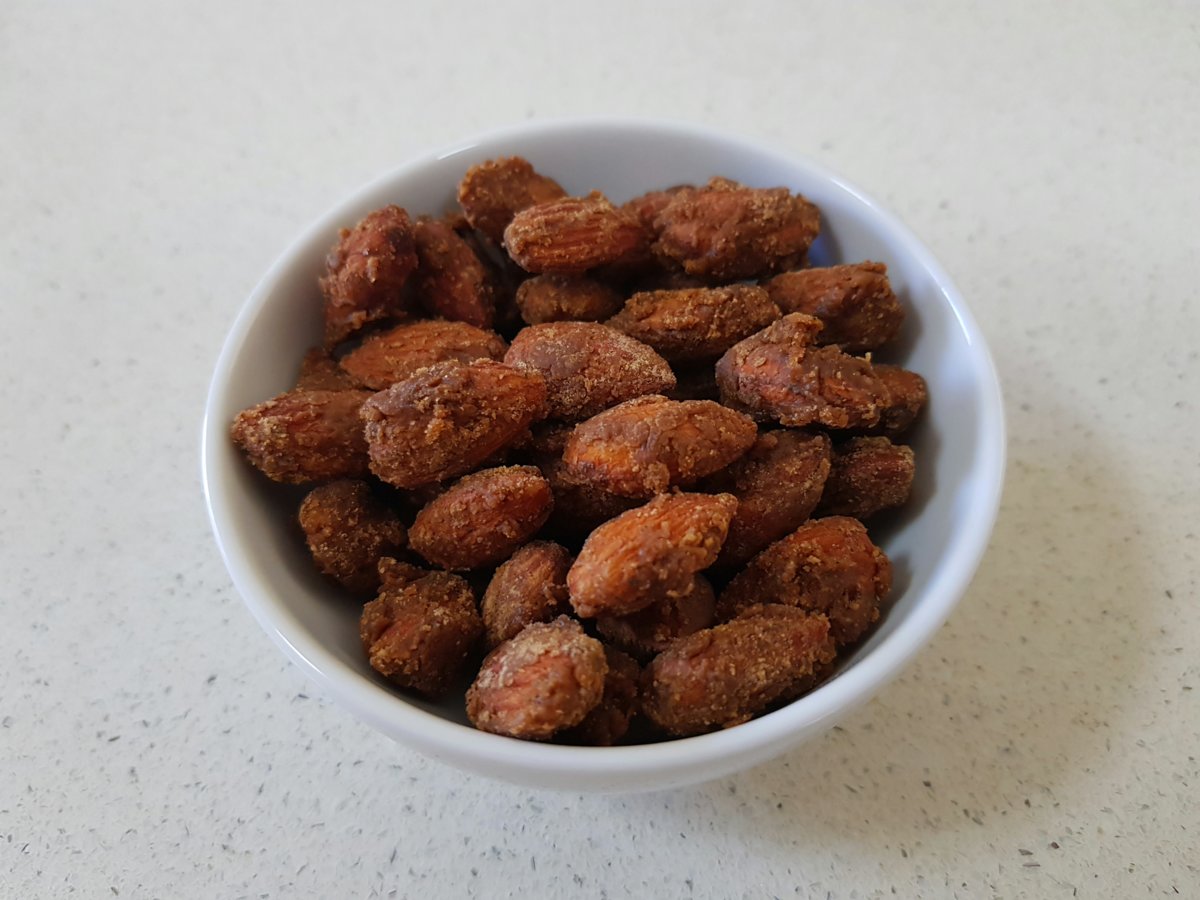 Ingredients
250g Almonds (unsalted is essential)
50g Coconut Sugar (or another fine brown sugar)
1/4 tsp finely ground sea salt
30-40g Maple Syrup
10ml water
1 tsp refined coconut oil (or another tasteless/odourless oil)
1 tsp vanilla extract
1/2 freshly ground cinnamon
Method
Get a cooling rack out and lay a piece of greaseproof paper (or baking parchment or similar) over the rack. It needs to be big enough to take all of the almonds in a single layer.
In a bowl, mix the coconut sugar with the sea salt and set aside. Ensure the bowl is large enough to contain all of the almonds when they are ready. The larger and flatter the bowl the easier the final steps will be.
Over a medium heat, heat a dry frying pan until it is hot and then add the almonds. Roast the almonds, turning frequently, until the almonds are hot and starting to smell roasted. Remove from the heat and pour into a spare bowl. Remember that the almonds will continue to cook/roast with their spare heat, so take this into account when roasting them.
Whilst the almonds are roasting, in saucepan large enough to take all of the almonds, add the maple syrup, water, refined coconut oil, vanilla and cinnamon and heat through. You need the mixture at a rolling boil just as or just after the almonds have finished roasting because you are going to add the hot almonds to this mixture when it has come to the boil.
Add the almonds, reduce the heat and stir thoroughly to coat all of the almonds in a layer of sugar syrup. Cook and stir until the bottom of the pan is dry and all almonds are coated. It will only take a couple of minutes.
Now pour the syrup coated almonds into the bowl containing the coconut sugar and salt and mix well. Keep mixing until all of the almonds are totally covered and there is no more coconut sugar left. It will happen, honest
Now pour the whole lot onto the greaseproof paper and spread them out the best you can.
As they cool, you can break them apart so that the almonds are not in clusters or stuck together.
Allow them to cool completely before storing in an airtight container.
Credits: inspired by (I just changed the roasting method)
Candied Almonds (naturally paleo, vegan) - Texanerin Baking
Last edited: